by Randa Wahid on 5/12/15
Yet another successful and educational event was held yesterday at the JLabs in San Diego, "From Chemical to Drug: The Path to a Small Molecule IND." The Janssen R&D team of experts covered in their program the processes and best practices when filing a small molecule investigational new drug (IND) application.
Beginning with a history overview of Janssen Labs and before handing the microphone off, Dr. Anders Brunmark referenced the audience back in time to something Dr. Paul Janssen would say, "...the patients are waiting."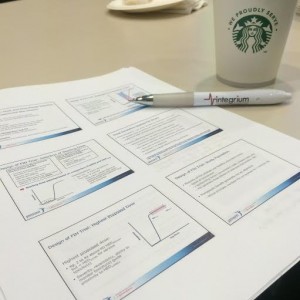 The Senior Director of Preclinical Development & Safety, Sandra Snook, shook up a number of questions from the audience as she explained the stages of discovery and development in preclinical studies, focusing on the strategies for pharmacokinetics, drug metabolism, and toxicology.
As Dr. Mark Krook took the stage to walk us through CMC nuances and guidelines, I found a familiar understanding in his message, from a CRO point of view. Many of our studies are delayed due to manufacturing. Mark's presentation outlined the scope of CMC, factors to consider when choosing a partner, and why the stability and synthetic complexity of certain molecules may make manufacturing development run longer than expected.
Dr. Kenneth Turner is the Senior Scientific Director of Quantitative Sciences in Cardiovascular and Metabolism. Ken's objective during his presentation outlined understanding the safety, tolerability, pharmacokinetics, and pharmacodynamics in First-in-Human Trials. He reviewed the different designs to consider when running a FIH trial and reasons for choosing one over the other, a conversation we as a company discuss with our potential clients on the daily.
Katherine Tsokas, J.D., head of Global Regulatory Affairs, ended the event with her synopsis on IND requirements, the importance of pre-IND Meetings, and the entire regulatory strategy. "Start with the end in mind," she emphasized to ensure biotechs have a well-defined development plan, and understand why their products bring value to the patient.